Vietnam visa on arrival: What is the '' Vietnam visa approval letter''?
If you are planning to visit Vietnam, you may have checked through several sources of information on Vietnam Visa. Obtaining visa for Vietnam is now much easier and simpler than it has ever been before. However, what is the most important to do is apply for a visa letter before your departure time. In this article, we will give you more insights on Vietnam visa approval letter – a must-have document which allows you to get a visa when you are landing in Vietnam.

What is "Vietnam visa approval letter"?
Vietnam visa approval letter is a mandatory document that foreigners will receive when applying for Vietnam visa on arrival. It is issued by Vietnam Immigration Department permitting foreign visitors to board the plane and get the visa stamped at one of Vietnam international airports. In other words, without the letter, you will not get permission on getting on board from your airport let alone arriving in Vietnam.
Bear in mind that you are not permitted to enter Vietnam by land or by sea if you present such a letter of approval upon your entry port, according to the Vietnam Immigration Policy.
Single-entry tourist visa approval letter.
How to apply?
As mentioned in the previous section, foreigners can obtain the visa approval letter if they apply for Vietnam visa on arrival. The procedure to get this letter is quite simple. You shall either submit a Visa Online Application Form with Vietnamvisavoa or send your passport copy to our email at support@vietnamvisavoa.com. After receiving the visa approval letter via email, you will print it out then travel to Vietnam. Upon arrival, a full visa sticker is glued on your passport when you present the visa letter and pay a requested stamping fee.
What do you need?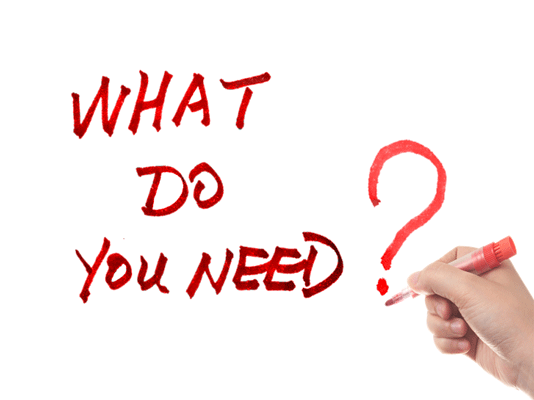 The requirements to apply for Vietnam visa approval letter is very straightforward and chances are you may have all of them. The first thing you need to submit is your passport copy. Make sure that your passport is still valid in the next six months since the arrival date in Vietnam. The second thing is your entry date. In case you are not sure about the date you arrive Vietnam you can choose a tentative one that is the earliest date you plan to visit Vietnam. The visa application submission can be completed online or directly contact our support team via email, phone or live chat.
How do I receive the visa letter?
When you apply for visa approval letter, the visa agent will get it issued by the Vietnam Immigration Department then send it to you via mail. Generally, after 2 working days since you pay for the visa service fee, the visa letter is delivered to your email address. In case you are in rush moment you can use the urgent visa service, it can be done within 1 working day, 4 working hours or 2 working hours.
How long does it takes to get the letter?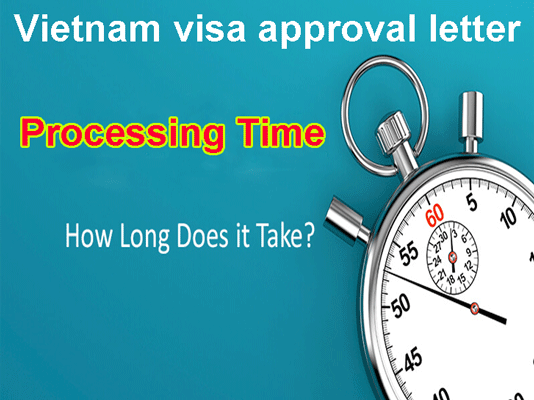 The processing time for visa approval letter varies according to type of visa and nationalities and urgent process is still applied if needed. Normally, you will receive the visa approval letter after 2 working days for tourist visa and 5 working days for business visa (excluding Saturday, Sunday and Vietnam National Holiday).
Note: the working day is determined by Vietnam Immigration Department's working schedule. Therefore, if
Your visa application is submitted and payment is made before 10:00AM Vietnam time, 01 working day is just recorded until 6.00 PM Vietnam time on the same day.

Your visa application is submitted and payment is made after 10:00AM Vietnam time, 01 working day is just recorded until 6:00PM Vietnam time in the following day.
How much does it cost?
The service fee to get Vietnam visa approval letter is changeable depending the types of letter, nationalities and the processing time. It is advisable for you to directly contact visa agents to ask about the cost in your situation. One tip is that you should applying the visa letter with Vietnamvisavoa as they always offer big discounts for frequent clients as well as those who get the letter as a group.
The payment is made online via Paypal account, Western Union and Bank Transfer. In case your request is refused, the agency ensures to refund 100% amount of money you paid.
What are types of visa approval letter?
You might wonder if all visa approval letters are the same. Actually, it is classified differently according to single or multiple entries, validity of approval letter and your travelling purpose.
Single-entry tourist visa: you are allowed one entry into Vietnam within your visa validity for tourism purpose
Multiple-entry tourist visa: You are permitted to enter and exit Vietnam several times as long as your visa is still valid for tourism purpose.
Single-entry business visa: you just can enter Vietnam one time within your visa duration for working purpose
Multiple-entry business visa: you are able to enter and exit Vietnam several times providing that your visa maintain its validity for working purpose
What does the approval letter look like?
Here is the sample of a Vietnam visa approval letter for you to refer. In this letter you must pay a close attention to 02 parts highlighted as bellows.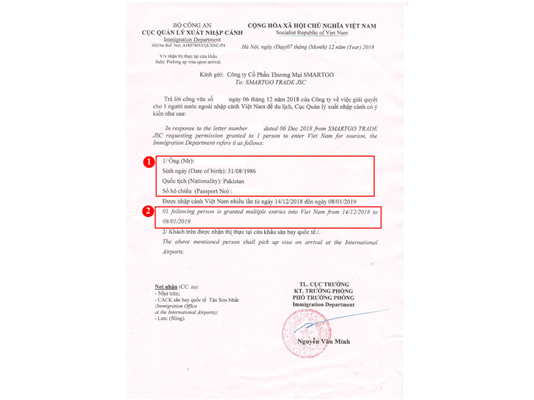 Multiple-entry tourist approval letter
Part 1: It is your personal information including full name, date of birth, nationality, passport number. Double check these details when you receive the letter as immigration officials will deny your entry to Vietnam if the information on the approval letter and your passport do not exactly match together.
Part 2: These are your entry date and exit date. You are only permitted to enter Vietnam on or after the entry date stated in the visa approval letter and must exit the country before your visa is expired. In case you wish to visit earlier, you have to apply for a new visa approval letter as there is no way to amend the entry date.
Those are all useful information you might need about the Vietnam visa approval letter. Vietnam is an amazing country with picturesque landscapes, pristine beaches, friendly people and simple online visa process so I highly recommend everyone visit at least once. If you guys still have any questions about visa approval letter as well as how to get Vietnam visa, please feel free to contact us via:
Website: www.vietnamvisavoa.com
Email: support@vietnamvisavoa.com
Tel: +84 969 255 515