Vietnam visa on arrival: What is the '' Vietnam visa approval letter''?
If you are planning to visit Vietnam and seeking the easiest way to get a Vietnam visa, visa on arrival is highly recommended. But…wait, in order to receive a Vietnam visa stamp at the airport, you need to be sure that you don't miss a very important document before your trip, which is called Vietnam visa approval letter (also known as the pre-approval letter or the visa invitation letter).
So, what is the visa approval letter? What does it look like ? And how can you obtain it? In this article, we will answer such questions and provide other related information that you might concern about the visa letter.
What is the Vietnam visa approval letter?
When it comes to Vietnam visa on arrival, a visa approval letter is popular definition mentioned immediately. The letter is a mandatory document released by the Vietnam Immigration Department to foreigners as applying a visa on arrival through a local travel (visa) agency.
This visa letter gives its holders official permission to get on the airplane to Vietnam and obtain a stamp of visa onto the passport at the airport to legally enter the country.
What does the visa approval letter for Vietnam look like?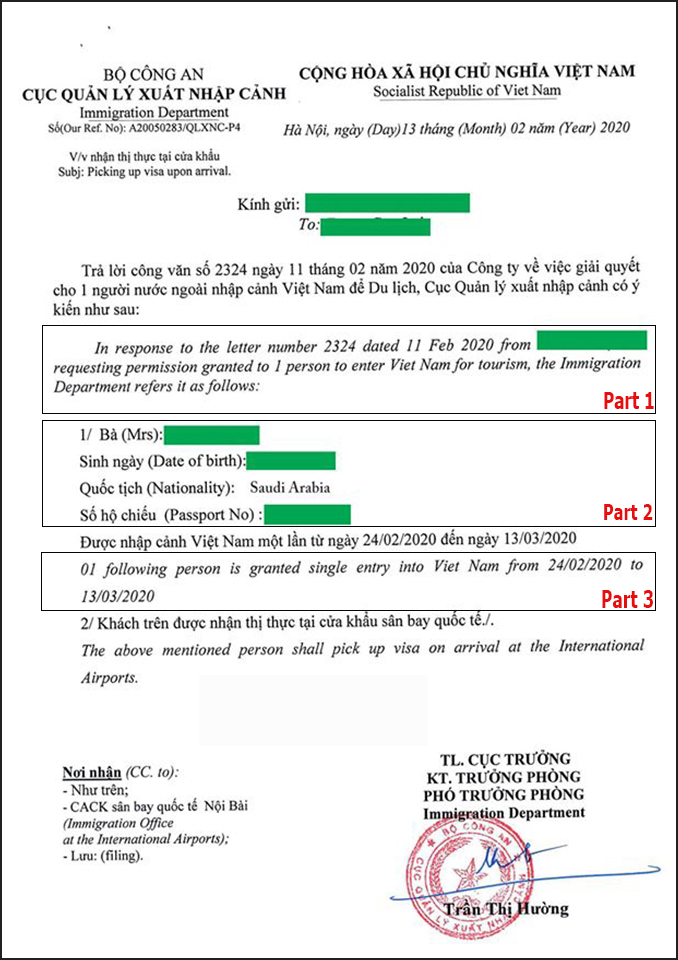 Sample of Vietnam visa approval letter
What are presented on it?
Take a look at the above sample. You can see the Vietnam visa approval letter is a bilingual document (English and Vietnamese) containing:
Part 1: Statement on permitting the letter's owners to enter Vietnam and to pick up a visa sticker upon arrival at Vietnam airports.
Part 2: Your personal information including full name, date of birth, nationality, passport number.
Part 3: Your entry date and exit date.
What information should you notice when receiving it?
First, you should double check your personal details. Immigration officials will deny your entry to Vietnam if the information on the approval letter and your passport do not exactly match.
Second, you are only permitted to enter Vietnam on or after the entry date stated in the visa approval letter and you must exit the country before your visa is expired. In case you wish to visit earlier than your initial visa request date, a new visa approval letter is needed. Entry date on issued visa letter can not be amended. So please pay attention to your duration of stay before coming to Vietnam.
How to get a visa letter to Vietnam?
The procedure for obtaining a visa approval letter to Vietnam is perfectly straightforward with 3 simple steps. See below.
Step 1: Submit your visa application online
Access our website https://vietnamvisavoa.com/ and complete this basic form with your general information, and contact information as well.
As soon as your request is received, you will be informed about the service fee and processing time.
Step 2: Make payment for visa service fee
After completing your visa application, you will go to pay for visa service fee with Debit/Credit Card, PayPal or Bank transfer.
We will send you a confirmation email including your personal details for visa and a secure payment link.
Your visa letter application will be processed with the Vietnam Immigration Department after your payment is completed.
Step 3: Receive your visa approval letter via email
In a few days or in some cases, a few hours (emergency service), the visa approval letter will be sent to your email as provided us.
(*) If you want our team to submit your visa application form on your behalf, you can send your details as below, to our email address at support@vietnamvisavoa.com
1) A first page of your passport (it should be clear and full)
2) Your entry date
is the date you plan to enter Vietnam officially; or
is a tentative one that is the earliest date you plan to visit Vietnam (in case you are not sure about the date you arrive Vietnam.
3) Your purpose of visiting Vietnam (tourist/business/family visiting.etc)
4) Your duration of stay
1 month
3 month
6 month (US passport only)
1 year (US passport only)
5) Number of entry
Single entry
Multiple entry
How do I receive a visa letter to Vietnam?
A scanned copy of your visa approval letter (in PDF format) will be delivered to your email so make sure that an email you provided us has correct address.
How much does it cost?
Service fee
The service fee to get Vietnam visa approval letter depends on the types of letter, nationalities of applicants and the processing time. It is advisable for you to directly contact visa agents to ask about the cost in your situation.
One tip: Applying the visa letter with Vietnamvisavoa.com, we always offer a big discount for frequent clients and for those travelling as a group. See more details of our visa service fee here and our payment guideline here
How long does it take?
Tourist visa approval letter
Normal service: 02 – 03 working days
Urgent/super urgent service: 01 working days or even 02 – 08 working hours
Business visa approval letter
Normal service: 05 – 07 business days
Urgent service: 01 – 02 business days
What types of visa approval letter
The visa approval letter is categorized into 2 types, namely:
Private approval letter
Sample of a private visa letter
A private letter or a confidential letter only contains your details or your group details presenting in an approved document. This visa letter type is issued upon your request.
Shared approval letter
Sample of a shared visa letter
A shared letter (known as group letter) contains information of other applicants whose visa letter requests are submitted at the same time for processing.
Helpful tips
We provide you crucial information and useful tips to ease your visa letter process.
• A visa approval letter only works in case you travel to Vietnam BY AIR. If you wish to arrive through sea ports or border check points, you can apply for a E-visa or visa at Vietnamese Embassy.
• Without a visa letter, you cannot board a flight to Vietnam. So, remember to print and bring it securely before going to the airport in your country.
• You will receive a confirmation email shortly after you submit your visa letter application. This email contains all details (personal information, entry and exit date, visa letter type, duration of stay) you confirmed us earlier. Please check it carefully and if you find any mistakes, let us know immediately.
• In some cases, you can receive your visa letter containing other people's information. If you wish to have a private one only bearing the details of you and your family, let us know when applying.
Frequently asked question about the Vietnam visa letter
Q0: How canI know Vietnam visa approval letter is fake or not?
Unfortunately there is nowhere online to check if your visa approval letter is fake until you are arriving at the Vietnam airport. Therefore, it is very important to seek a reliable visa agent that will obtain a visa approval letter for you.
Q1: Is Vietnam visa approval letter legitimate?
YES, absolutely. As mentioned, the visa letter is approved and issued by the Vietnam Immigration Department. So, with an authentic and valid visa approval letter, you are permitted to fly to Vietnam and get the visa stamped upon landingat Vietnam airports.
Q2: How long in advance should I submit a visa letter?
You can apply a visa approval letter at any time you want. However, it is recommended that you should start your process at least 2 weeks prior to your departure.
Q3: Do I need to provide an exact date of entry?
It is NOT really necessary. You can provide us the date that is earlier than date you plan to arrive because you can enter the country after the entry date issued in your visa letter.
Note: You are not allowed to arrive earlier than the date stated on your visa letter. In case you wish to enter the country before the date issued on your visa letter, you must apply for a new visa approval letter with new duration of stay.
Q4: What if there are any typos or spelling errors in my visa approval letter?
That may be a big problem. Any spelling errors or typos on your visa letter can prevent you from boarding at the airport. So remember to double check or event triple check the letter as soon as receiving it.
Q5: When do I need to pay my service fee?
After your visa letter submission, we will send you a link to follow in order to pay your service fee. Your request will be processed as soon as your full payment is received.
Q6: What if I change and arrive at another Vietnam airport?
NO problem. When you apply a visa on arrival, a visa approval letter will work at these 10 international Vietnam airports. So you can enter at any of the 10 airports without any struggle.
Q7: Can I get a Vietnam visa letter when I am not staying in my home country?
YES, you can. It is possible to apply a visa letter to Vietnam when you are staying or residing in another country. You just need to find a local visa agent that handle your visa application online.
Q8: If I travel to Vietnam with my kids, are they required a visa approval letter?
YES, children are also required to apply for a visa letter in advance with their own passport, or on the same passport with their parents to arrive in Vietnam.