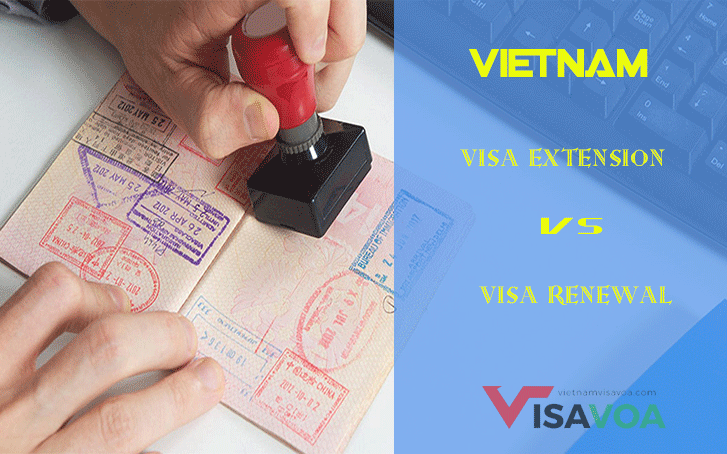 Vietnam visa extension and Vietnam visa renewal
If you are in Vietnam and do not want to leave the country while your visa is going to get expired, visa extension and visa renewal are the two available options allowing you to prolong your stay in Vietnam without exiting from the country.
Useful Tip: Due to the complicated and unpredictable situation of Coronavirus epidemic, the best way to protect yourself and community is to stay back with visa extension or renewal rather than travelling outside Vietnam. By doing so, you can avoid being stranded or refused to re-enter Vietnam if you are travelling from or via (unknowingly) infected areas.
New update about visa extension during the Coronavirus outbreak: Vietnam has temporarily suspended visa-free travel (even stopped providing a visa on arrival) for citizens from 26 European countries infected with the Coronavius, however, visa extension is still available to all foreigners citizens who are staying in Vietnam.
► You can opt for Vietnam visa run if you wish to stay longer than Vietnam.
What is Vietnam visa extension?
Extending your Vietnam visa is permitted you to prolong your stay in Vietnam before your current visa gets expired. Still, the maximum duration you can ask is for 3 months per each time. The cost of Vietnam visa extension is determined according to your nationality, arrival port of entry and visa duration.
What is Vietnam visa Renewal?
Getting a Vietnam visa Renewal means that you have your passport stamped a new stamp and sticker for a new period of stay in Vietnam. Similar to Vietnam visa extension, you are only allowed to renew for a maximum period of 3 months. Bear in mind that the fee of visa renewal is higher than visa extension but unlike visa extension, visa renewal is available for those who enter Vietnam under visa waiver program.
Who are eligible for Vietnam Visa Extension or Renewal?
Extension

- Your requirement for the validity of visa extension has to be corespondent to your current Vietnam visa type.
- 1 month visa extension: you are granted to extend your visa in one more month in case you hold a visa 1 month (single or multiple entry) or 3 months (single or multiple entry).
- 3 months visa extension: you are allowed to apply this visa extension in case your current visa is 3 months (single or multiple entry).
Renewal

- For those who travel to the country with Vietnam visa exemption.
- Your requirement for the validity of visa renewal is not corespondent to your current visa
- For those who want to upgrade a visa with single entry into multiple entry (1 month or 3 months)
How long can I exnted or renew my visa?
Generally, you can extend or renew your visa with 1 or 3 month duration. According to Vietnam visa policy, there is no limit on the number of visa extensions. However, it is recommended that you should extend for your ongoing visa for a maximum of 3 times. If extending your visa more than 3 times, you might be caught attention of the Immigration, as the result your visa request has a high chance of being refused.

How to extend and renew a Vietnam visa ?
Option 1: Apply through the Vietnam Immigration Department on your own
You need to follow the steps:
- Prepare your passport and download the NA5
- Submit your documents to the Immigration Office with the following address
♦ In Hanoi: No. 40A Hang Bai Street, Hoan Kiem District, Hanoi, Vietnam
♦ In Da Nang: No. 7 Tran Quy Cap Street, Da Nang, Vietnam
♦ In Hochiminh City (Saigon): No. 254 Nguyen Trai Street, District 1, Ho Chi Minh City, Vietnam
Option 2: Apply through Vietnamvisavoa.com
To extend or renew your visa with us at Vietnamvisavoa.com, please follow our detailed guidance as bellows:

Step 1: Submit your information for visa extension/renewal including: passport copy, your visa page or visa exemption sticker to our email at support@vietnamvisavoa.com

Step 2: Our consultant will check and confirm if your visa can be extended or renewed. Service fee is notified along once you are eligible for visa extension or renewal as well as the processing time.

Step 3: Once your payment and your original passport are both delivered to us (through post or to our office), we will start to process and note the estimated date that you will get back your passport.
NOTE: If you are holding diplomatic, official or any special type of visa which is exclusively issued by an official or governmental agency, you should directly contact with your own sponsor or visit personally the Vietnam Immigration Department for further instruction in this case.


How much to extend or renew your Vietnam visa
The costs of visa extension and renewal vary from agency to agency which are also greatly influeneced by Vietnam visa policy . As bellow, we just give you estimated price for both for your reference. Due to constant changes related to Vietnam extension visa policy, you are highly advises to contact us for the updated cost.
Unit: USD/pax
Current visa

(Tourist visa)

VISA EXTENSION

VISA RENEWAL

15 days/single entry

1 month/single entry

3 months/single entry

3 month/multiple entry

Visa exemption

75

145

215

245

1 month

NA
85
325
Contact us

3 months

NA
150
335

Contact us
Extension and Renewal Price for Tourist Visa
1) Extension fee: The fee for extending visa depends on your present visa issued on your passport and your arrival port you entered through. Basically, the longer you want to stay the more you will pay for extending your visa.
2) Renewal fee: the fee for renewal is a bit higher than the extension fee because you are required to pay all inclusive for visa stamp glued on your passport. This way is very strict to do sometimes.
Why choose VOA for visa extension and renewal
► 24/7 available for phone call and email
► Timely received approval letter as guaranteed
► Patiently listen and clear up your curiosity
► Explicitly coherent guidance through every step
► Closely follow up until your arrival in Vietnam
► Securely protected personal information
► Highly successful rate of 99%
► Prominently competitive price