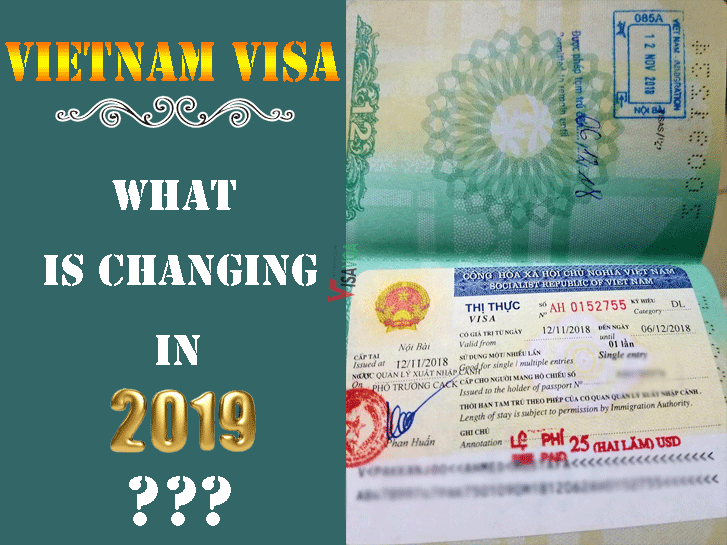 Vietnam visa changes in 2019 – What you need to know
A New Year 2019 brings along with a new change on Vietnam visa policy, here bellow are highlighted changes updated so far.

1. 6-month and 1-year business visa have been still banned to issue
Suspension of 6-month and 1-year business visa was taken in August of last year (2018) but still have been banned until 2019. All nationalities, except for USA citizens, are complied with this registration. This will then shorten your staying and cause visa run every 3 months for any those who wish to stay longer in Vietnam.
2. It takes a little longer time to process 3 month tourist visa
Regularly, it takes up 2 working days to process visa application for tourist purpose as standard processing but it has no longer happened when you want to apply for 3 month tourist visa. Since at the beginning of 2019, you need to wait between 3 and 5 working days to get your 3 month visa approval letter ready. Unfortunately, there is no urgent service can be done on this type of visa. Hence, be aware of this change when you are about to obtain 3 month visa.
3. Long term business visa can not be obtained without work permit
According to Vietnam Law, foreigners who stay to work more than 3 months in Vietnam, they must obtain work permit. With work permit obtained successfully, a long term visa up to 2 year in maximum is granted as per the Vietnam Immigration Law. It means that applicant is only allowed to issue 3 month visa as the longest validity if work permit is failed to be provided.
4. Vietnam E-visa have been granted to 35 more countries
Rolled out since February 2017, E-visa has been more extended and opened to another 35 countries in 2019 with the aim of boosting up tourism markets, especially form European and intensively increase revenue from this non-smoke industry. Eligible applicants can apply online for 30 day single entry tourist visa and it takes 3 working days to receive E-visa confirmation letter which sent by email.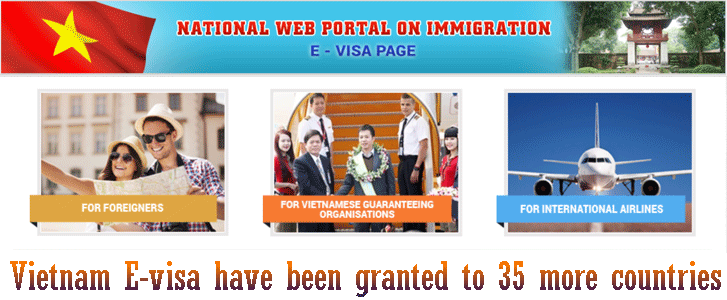 5. Vietnam visa on arrival 2019
In order to apply for the Vietnam visa on arrival in 2019, applicants need to follow the 4-step process as below:
Step 1: Submit the visa request
As of 2019, foreigners can obtain the visa on arrival via either of two ways:
The first one is to fill out an

online application form

. Vietnamvisavoa.com has designed the simplest one you have ever seen and you can find it here. In case you need any assistance, feel free to chat with our customer service staff via +84 969 255 515 (Whatsapp/ Viber/ Wechat).
The second one is to send your passport copy and entry date to the email support@vietnamvisavoa.com. If you have not decided your extract arrival date, you can submit the tentative one which is the earliest day you intend to enter Vietnam.
Step 2: Pay the visa service fee
After receiving your application, the visa agent will delivery the payment methods for you. You can make the payment via Paypal, Western Union or Bank Transfer. To check the visa fee as updated in 2019, refer to this page.
Note: the service fee is refundable. You will get back 100% amount of money you paid in case your visa request is rejected.
Step 3: Get the visa approval letter
Generally, processing time depends on your type of visa and nationality, it takes 2-3 working days or 5-7 working days for tourist or business visa respectively. Vietnamvisavoa.com will send it along with the Vietnamese visa application form for you via email. Double check your information then print and bring it to Vietnam.
Note: you can also get the letter within 1 working days or even few working hours if you apply for rush service. Of course the visa fee in that case will be much higher than the fee of normal service.
Step 4: Collect the visa stamp
As soon as you arrive in one of Vietnam international airports, go ahead to Landing Area to submit some mandatory documents encompassing the approval letter, the Vietnamese visa application form, original passport, 2 passport-sized photos and pay the stamping fee to get the visa stamped on passport.
6. Vietnam Visa Exemption 2019
Here is the list of countries which are not required to have Vietnam visa as of February 2019: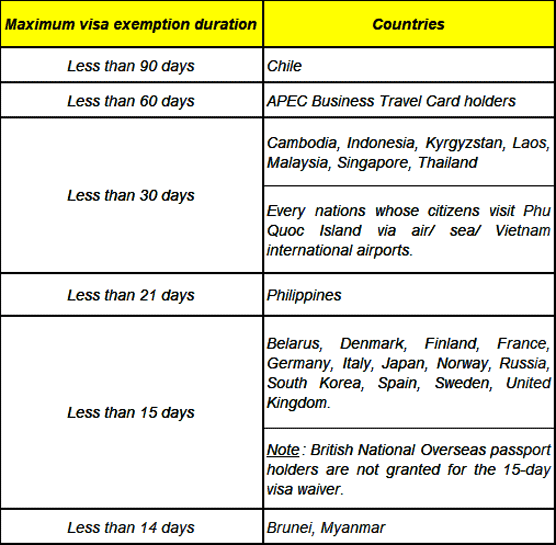 7. Vietnam E-visa 2019
According to the update of the Vietnamese Immigration Department in February 2019, there are now 80 nations in the list of country that allowed E-visa issuing. The application process is straightforward and all eligible applicants need to do are to complete an online form and make payment via the electronic gateway of Immigration Department.
Before applying for it, you will need to have:
A Passport (Valid for at least 6 months after arrival to Vietnam)

A Credit/Debit card /Paypal account

A digital copy of passport page which contain personal information.

A recently taken digital photo (it should present full face, front view, eyes open without glasses, background should be plain light colored or white)
Here is full process of getting Vietnam e visa in 2019
You must submit relevant personal information via the form of Vietnam Immigration Department and pay the required fee by credit card (MasterCard or Visa) or paypal.

When your eVisa application has been approved, the visa issuance system will send you a notice for a link to download and print the eVisa.

You are required to present this eVisa at the immigration checkpoint for verification upon your arrival in Vietnam.
Normal processing time of Vietnam e visa is 3 working days. Cost of Vietnam e visa is 25 USD, which is non-refundable in case of visa issuance refusal.
Here is latest updated information on Vietnam visa in 2019. Should you have any question, please feel free to contact us at +84.969.255.515 or email: support@vietnamvisavoa.com