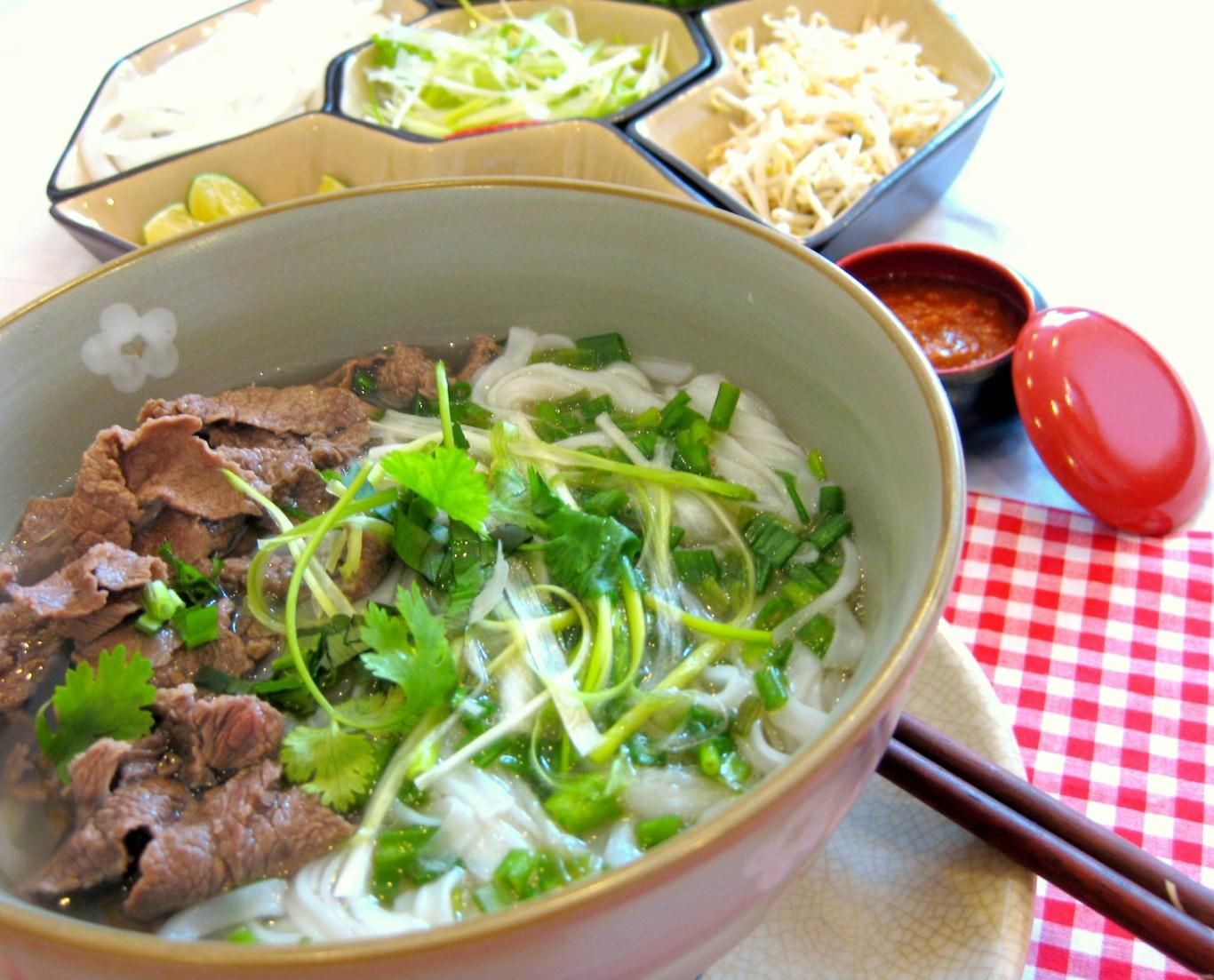 Most recommended dishes in Hanoi by locals
You are visiting Hanoi and you are wondering what are must try foods in here? Let our local guide give you recommendation.
1. Phở (Vietnamese Noodle/ Noodle soup)

One of the best foods in Hanoi, Phở is very well-enjoyed by all locals since it was "invented" in the early 20th century. Phở or rice noodle soup-is omnipresent in Hanoi, from street vendors to high-end restaurant chains. Phở is served with chicken or with beef. Each type of meat entails a variety of sub-dish, from beef tenderloin to beef brisket, chicken wing to chicken thigh.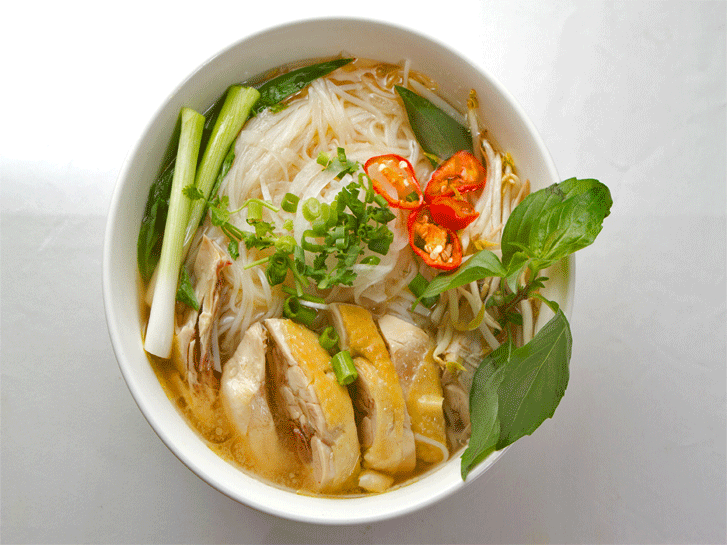 Chicken noodles - Source: Internet

Pho Bo- Beef Noodle is considered as the most well-known of all Vietnamese soups. It was inspired by French settlers who commonly ate beef, where Vietnamese traditionally preferred pork, chicken, and fish. Pho Bo has become the favorite dish that can be enjoyed by anyone. Pho is especially popularly eaten for breakfast and dinner in Hanoi and throughout Vietnam.
2. Bún chả (Kebab rice noodles)
Another famous thing in the list of best foods in Hanoi could not miss Bún Chả. Just walking around Hanoi in the lunchtime, you will feel the air perfumed with the scent of sizzling grilled pork, the key component to the city's signature dish. The grilled pork is served with a sweet and salty broth, slices of green papaya, rice noodles and fresh herbs.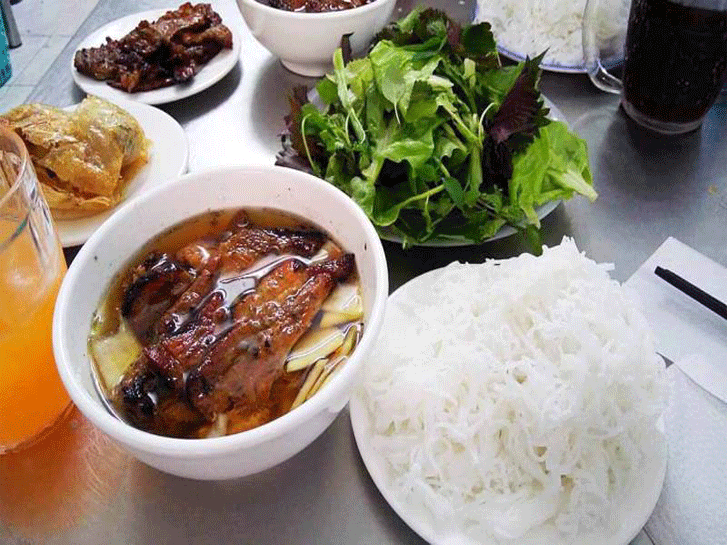 Source: Internet
3. Bánh cuốn ( Steam rice cake)
Bánh cuốn is one of Hanoi's favorite breakfast items and is into any list of must-try Vietnamese dishes. If the French has famous delicious crepe made of wheat, egg and dairy products, Vietnamese and particularly Hanoian is proud of steamed crepe from rice flour and water. A pancake contains ground pork, wood-ear and seasoning. Banh cuon is served with a mixture of fish sauce, sugar and lime, called Nước Mắm in Vietnamese.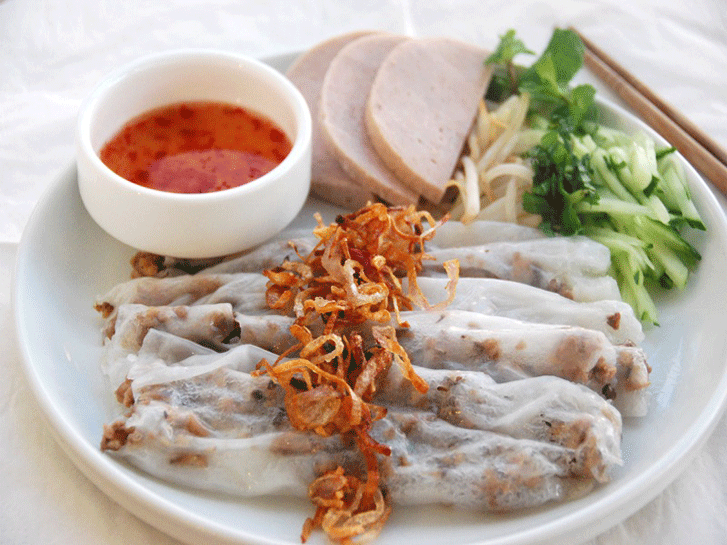 Source: Internet


4. Bánh mì (Vietnamese baguette sandwich)
The baguette is one of the symbols of French colonialism. It's given a Southeast Asian twist by stuffing it with pâté, mayonnaise, pickled carrots, jalapeños and gobs of cold cuts. But the bánh mì is basically a blank slate to which cooks can add whatever they desire. They could be with fried egg, fresh carrot, cucumber, green papaya and corianders mixed with chili sauce.
Source: Internet
5. Xôi (Sticky rice)
The glutinous rice is topped with lotus root or boiled peanut with green beans, or with Chinese sausage, stewed pork or chicken etc. You can seek out the street vendors with giant baskets stuffed with warm sticky rice in the morning.
Source: Internet
6. Chả cá (Grilled fish)

Chunks of fried fish is served with plenty of turmeric, then sizzled with heaps of dill to enjoy with rice noodles. It's a fragrant delight that could not be missed.
Source: Internet
7. Bia Hơi (Draught beer)
Bia hơi is a special type of homemade beer, unpreserved, brewed daily and delivered in kegs to local businesses in Hanoi. Unlike canned or bottled beer, Bia hoi should be consumed the day after it leaves the factory. It's brand-less and very cheap compared to Western-style beers. Tourists can drink as much beer as possible because its light flavor.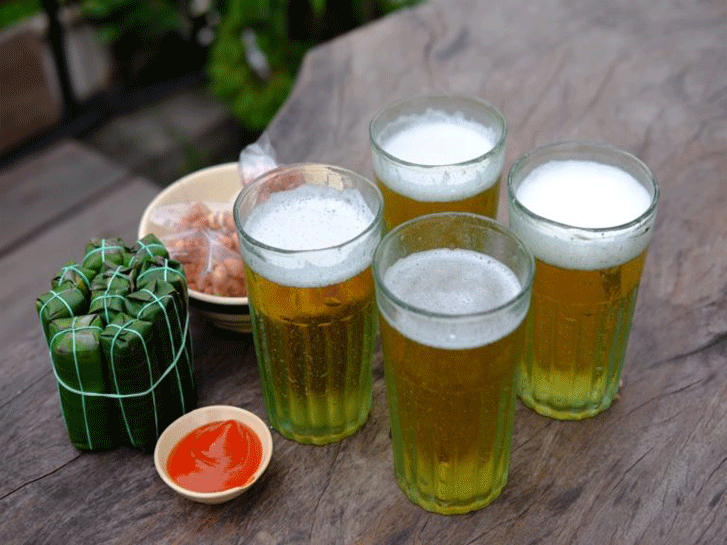 Source: Internet
8. Bánh Tôm (shrimp in batter)
Bánh Tôm is another Vietnamese dish originated from Hanoi. It's made of battered and deep-fried sweet potato and shrimp. Bánh Tôm is commonly wrapped with lettuce, herbs, and pickled vegetables. It is often served as an appetizer or snacks.
Source: Internet