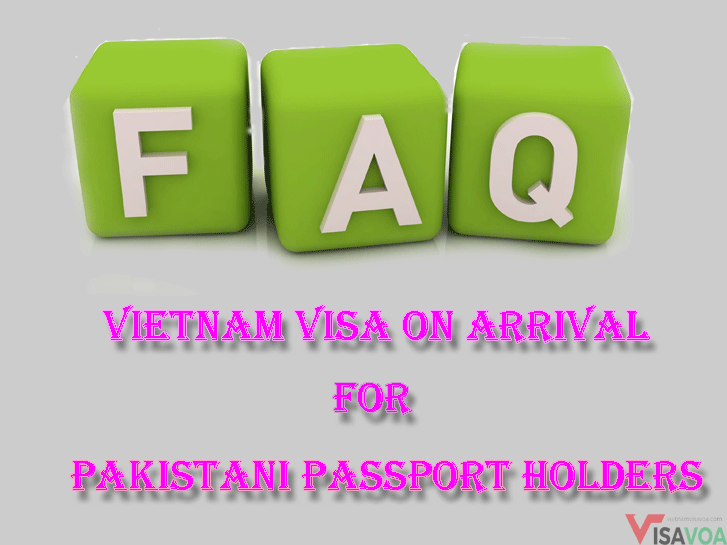 Frequently Asked Questions About Vietnam Visa For Pakistani Passport Holders
Vietnam visa is among one of the country which issues visa for Pakistani easily. Let us share with you all information about Vietnam visa on arrival for Pakistani passport holders
Question 1: How many ways to apply Vietnam visa for Pakistani?
Answer: To get Vietnam visa, Pakistani either can submit the Vietnam visa request at Vietnam Embassy in their area or they can apply for Vietnam visa on arrival.
Question 2: What is Vietnam visa on arrival?
Answer: Vietnam visa on arrival is another way of getting your Vietnam visa sticker when you arrive in Vietnam instead of collecting stamped Vietnam visa at Vietnam Embassy.
Bear in mind that visa on arrival for Vietnam works far more differently from Visa on arrival for Thailand or Cambodia or other countries. When we talk about Vietnam visa on arrival, many people would think that they simply do nothing till they get to Vietnam Airport or land border, show the original passport and have Vietnam visa stamped on. NO, that is totally not true. You still need to apply online for the visa and have to enter Vietnam by air.
Question 3: How to get Vietnam visa on arrival on Pakistani passports?
Firstly, you have to apply for Vietnam visa approval letter/ Vietnam invitation letter which is issued by Vietnam Immigration Department. You should contact to an authorized visa agent like Vietnamvisavoa.com so that your Vietnam visa approval letter will be issued properly.
Next step is to print out the document, take along with you to your plane, fly into any international airports in Vietnam and collect Vietnam visa sticker on your Pakistani passport.
Click here to know the detailed process of Vietnam visa for Pakistani.
Question 4: Must I book ticket first to apply for the visa on arrival or I can book ticket later when my Vietnam visa approved?
Answer: No, you don't need to send us your flight ticket. You only need to make sure that you will travel to Vietnam by air as this Vietnam visa on arrival is to collect Vietnam visa stamped at Vietnam airport only.
Question 5: Do I need to send you hotel booking?
Answer: No you don't have to. Hotel booking is not compulsory in Vietnam visa application however you should prepare your hotel booking before leaving Pakistan in case Immigration officer at Pakistan airport requires.
Question 6: How long does my Vietnam visa approval letter valid ?
Answer: Currently, a Pakistani tourist will be granted for 25 days single entry tourist/ visit Vietnam visa. In case, you want 30 days Vietnam visa validity or have multiple entry Vietnam visa, please send the request to us via the email support@vietnamvisavoa.com.
Question 7: How can a Pakistani make payment for Vietnam visa fee ?
Answer: We understand that living in Pakistan, you may have some issues to transfer money abroad so we have written a complete payment guideline and do offer different mode of payments: Pay by Credit Card, Paypal, Bank Transfer, and Western Union. You even can transfer money by local bank to our local agent in Pakistan.
In case, you are Pakistani living in China, there is a possibility of making payment for us by Wechat as well.
Question 8: What if my Vietnam visa request is refused?
Answer: If your Vietnam visa request is not accepted by Vietnam Immigration department, we will inform you via email and we commit to make a full refund of Vietnam visa service fee for you
Question 9: How long must I wait for my visa invitation letter for Vietnam?
It takes between 5-7 working days on normal basis to issue the Vietnam visa letter for Pakistani citizens. You will receive a copy of this letter via email along with a Vietnamese visa application form, Vietnam travel guide and detail instruction on what to do upon arrival.
Question 10: Can Vietnam visa approval letter be issued quickly?
If you are in rush situation, you need to travel to Vietnam quickly, you can apply for urgent Vietnam visa on arrival. Accordingly, Vietnam visa letter will be approved within 03 working days (except for Saturday, Sunday and national holidays)
Question 11: Is there any issues when Pakistani board the airplanes with just Vietnam visa approval letter?
Answer: We are pleased to guarantee that Vietnam visa approval letter is a legal and official document that allows you to fly to Vietnam and get Vietnam visa stamped at Vietnam International airports.
Even so in some specific cases , for example: You are still too young (around 20 year old), you travel abroad for the first time, you travel on Emirates/ Malindo airline, the officers at airports reserve the right to require you supplemental documents such as: Bank statement, showing cash, hotel booking, return flight ticket, even OK TO BOARD.
Things like finance proofs, hotels booking, you should prepare by yourself before the trip. About OK TO BOARD, we are willing to assist you for free of charge. Upon receiving your Vietnam visa approval letter approved and booking flight ticket, you should send us your flight ticket confirmation through email: support@vietnamvisavoa.com. We will help you out to insert OTB on your ticket.
Question 12: What is the procedure to get Vietnam visa stamped on passport at Vietnam airport?
Answer: Once your plane is landed, you go directly to Visa upon arrival/Landing visa counter. You present required documents which consist of: Your original passport, your Vietnam visa approval letter, 02 passport-sized photos, completed Vietnamese visa application form to Immigration officer. When your name is called out by the officer at airport; you come and pay stamping fee in cash (25 US for single entry visa and $50 US for multiple entry visa). After that you can get your passport back with Vietnam visa sticker and reach Immigration counter then enter Vietnam legally.
Question 13: How much does Vietnam visa on arrival cost for Pakistani?
Answer: When it comes to Vietnam visa online, every applicant must pay 2 kinds of fee: Vietnam visa service fee, Vietnam visa stamping fee in which fee would be different depend upon your nationalities, visa type whether it is 1 month or 3 month, single or multiple entries, visit visa or business visa…
As of 2018, the visa fee for Pakistani includes $110 US/person for the service fee at Vietnamvisavoa.com and $25 US/ person forsingle-entry visa stamping fee on arrival airport.
Question 14: Have you provided this Vietnam visa on arrival service for many Pakistani?
Answer: It is our great pleasure to work with many Pakistani clients and all of them are pleased with our service. We would be proud of to introduce you some of clients from Pakistan:
Mr. Abdul Wali, many of you would know him already. He works in IT sector and he adores traveling. Many of his travel videos are released with practical guide about worldwide tourism on his website flyingtotheworld.com.
Mr. Ahmed Kanjoo is also one of our beloved customers. We have to say that Ahmed is addicted to travel. He shows a strong love to Vietnam, travelled to Vietnam twice within a year in 2018. Come to him if you look for any travel inspiration and learn about his experience about Vietnam visa on arrival.
Get more information about Vietnam visa requirements, different ways to get Vietnam visa on Pakistani passport, travel tips in Vietnam at our official website or connect with our dedicated support team for most updated information and instant support through:
Website: https://vietnamvisavoa.com
Email: Support@vietnamvisa.com
Phone: +84969255515(Whatsapp/Viber/ Wechat)
Traveling to Vietnam on Pakistani passport is never easier than now. DON'T WAIT! Discover Vietnam now!