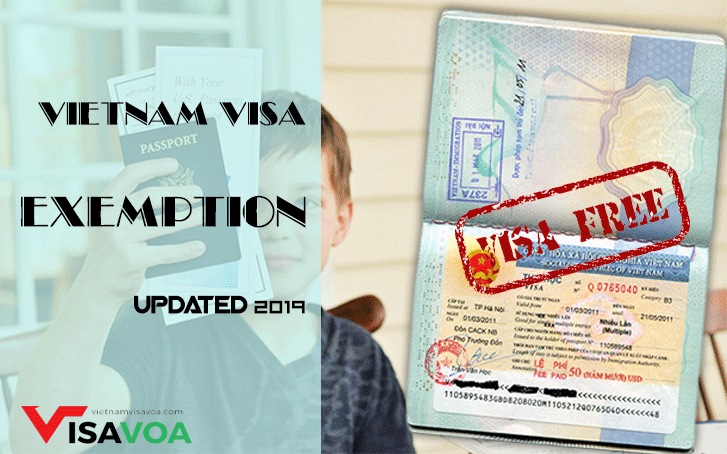 VIETNAM VISA EXEMPTION- updated 2019
Vietnam visa exemption keep changing over the years. Get the most updated news about Vietnam visa exemption in 2019
Vietnam visa exemption rules vary from one nation to another. All foreign travelers visit Vietnam must first confirm whether they need visa at visa issued in advance at the Vietnam Embassy/ Consulate, Visa on arrival or simply exempted from visa to Vietnam. In order to comprehensively understand Vietnam visa exemption, our article is here for you.
1. LIST OF VIETNAM VISA EXEMPTION
| | |
| --- | --- |
| The number of visa-free day | Countries |
| 90 days | Chile |
| 30 days | Laos, Cambodia, Thailand, Malaysia, Indonesia, Singapore |
| 21 days | Philippines |
| 15 days | Japan, South Korea, Denmark, Russia, Sweden, Norway, Finland, UK, France, Germany, Italy, Spain |
| 14 days | Brunei, Myanmar |
As you seen above, although these nationals are granted with visa –free to enter Vietnam, there is a difference on their certain staying period, which is based on the diplomatic relationship between Vietnam and these countries – Bilateral or Unilateral Visa Exemption.
Citizens with visa fee for 15 days are again entitled to enjoy Vietnam Visa Exemption Program when re-entering Vietnam providing that the gap between the last exit date and re-entry date has at least 30 days.

Visa exemption is issued for tourist purpose only

The passport of Vietnam visa-free citizens has at least 6 month validity from the entry date of Vietnam
2. 5 YEAR VIETNAM VISA EXEMPTION
For foreigner who has spouses or children of Vietnamese citizen, the Vietnam Government has authorized to grant visa exemption within 5 years. With this exemption certificate, you are allowed to stay in Vietnam in 180 days for each entry. To apply for this, you can submit documents at Viet Nam Embassy/Consulate as listed bellows:
At the Vietnam Embassy/Consulate, documents including:
a. One application form for a visa exemption certificate.
b. One recent 2x2 inch photo (white background, straight face, bare head, without colored glasses).
c. A foreign passport with validity of at least 6 months up to date of entry (a copy attached for competent authority to file)
d. One of documents proving relationship between wives/husbands/children and the Vietnamese residing abroad (a copy attached for competent authority to file)
Certificate of Marriage

Certificate of Birth

A Certificate of relationship with father, mother, children;

Other valid documents as regulated by the Vietnamese Law.

Decision of Adoption
Time required for the issuance of exemption certificate is around 7 days after the receipt of application.
Please download the exemption application form and find more information on 5-year visa exemption program at mienthithucvk.mofa.gov.vn.
3. VISA EXEMPTION FOR DIPLOMATIC OR OFFICIAL PASSPORT HOLDERS
♦ Free visa for 90 days: The citizens holding diplomatic or official passport from Armenia, Algeria, Argentina, Bangladesh, Brazil, Bulgaria, Chile, Colombia, Dominican, Ecuador, Egypt, El Salvador, France, Hungary, India, Iraq, Japan, South Korea, Mexico, Myanmar, Moldova, Mongolia, Montenegro, Morocco, Mozambique, Pakistan, Panama, Paraguay, Peru, Russia, Serbia, Seychelles, Singapore, Slovak, Slovenian, South Africa, Sri Lanka, Tanzania, Tunisia, Turkey, Ukraine, UAE, Uruguay, Venezuela
♦ Free visa for 90 days: the citizen holding diplomatic passport from Czech, Estonia, Germany, France, Israel, Italy, Poland, Spain, and Switzerland
♦ Free visa for 60 days: The citizen with holding diplomatic passport from Uzbekistan
♦ Free visa of 30 days: the citizen holding diplomatic or official passport from Angola, Azerbaijan, China, Croatia, Kazakhstan, Myanmar holding diplomatic or official passport are granted visa-free entry for 30 days
♦ Visa exemption: The citizen holding diplomatic or official passport from Afghanistan, Albania, Belarus, Cuba, North Korea, Nicaragua, Romania
♦ Free visa of 30 days: the citizen holding diplomatic passport from Iran.
4. APEC CARD HOLDER
The holder s of APEC Business Card (ABTC) are granted visa free to enter Vietnam and stay between 60 and 90 days without applying Vietnam visa.
APEC Business Cards are only issued by the Governments of participating economies, thus travelers should submit APEC card application at their home country. Once it is issued, the cards remain for three years before they have to be renewed.
5. VIETNAM VISA EXEMPTION IN PHU QUOC ISLAND
Vietnam visa waiver in Phu Quoc Island
Visitors from all over the world who visit Phu Quoc Island are allowed to stay in this island without a visa for not more than 30 days. This visa waiver program is applicable to those traveling directly to the island through any international ports of entry (air and sea). If you do not fly directly to Phu Quoc or you visit other places in Vietnam after visiting Phu Quoc, you are required to apply for Vietnam visa.
For those who wish to stay in Vietnam longer than the exemption duration, they are advised to apply for a visa by one of three following ways:
1. Apply in person at nearby Vietnam Embassy/Consulate:
It is recommended for those who live close to Vietnam Embassy/Consulate. Processing time would take around a week.
2. Apply Vietnam visa on arrival:
For this type of Vietnam visa, you just need to submit a visa application form online, pay for service fee, get a Vietnam visa approval letter issued by Vietnam Immigration. You fly into Vietnam with this document and then collect stamped visa upon arrival. Processing time would take only 1- 2 days. Apply your Vietnam visa NOW!
3. Apply Vietnam Evisa.
This visa type was launched in 2017 aims at easing Vietnam visa procedure in order to promote Vietnam tourism. However, till now, it is applicable for 80 countries only. Would like to know how to get Vietnam Evisa, find it here.
Note: No matter if you are required to get Vietnam visa or not, your passport should be valid for no less than 6 months prior to the trip and have at least 01 empty visa page left.
Should you still have any questions about Vietnam visa exemption or need any advice about Vietnam visa for your trip in Vietnam, do share with us:
Hotline: +84969255515 (Wechat/viber/whatsapp)
Email: support@vietnamvisavoa.com