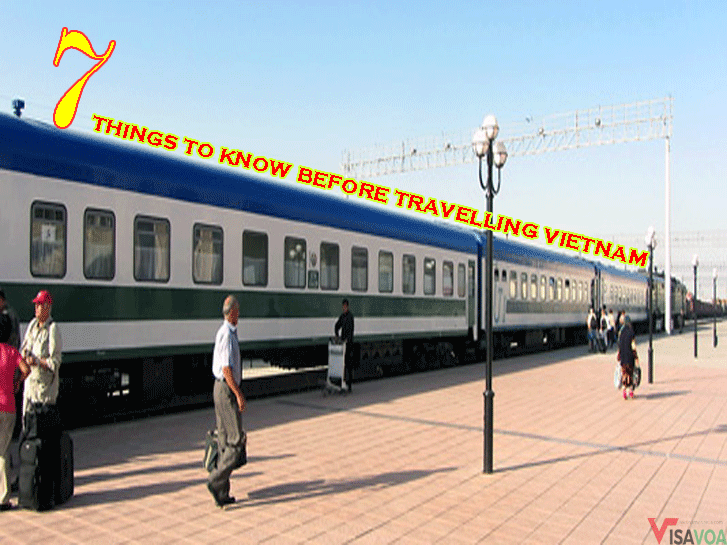 7 things foreign tourists must know before traveling to Vietnam
Vietnam, an amazing destination in Southeast Asia which have many unique things to offer. Know about these facts before heading to Vietnam to get a good preperation for the best holiday in Vietnam
Vietnam is known as one of the countries with many beautiful landscapes, attracting foreign visitors. However, many foreign tourists before traveling to Vietnam are not well-informed for the best experience here. This article will reveal tips and experiences for foreign tourists who are intending to travel to Vietnam in the coming time.



1. Vietnam visa

Vietnam visa is easy to granted without any special requirements like finance proof, hotel booking or tour package. Currently, there are 3 ways of getting Vietnam visa:
Vietnam visa at Vietnam Embassy/Consulate
Vietnam visa on arrival: This is commonly confused by tourists. Many travellers do not check carefully how this visa type actually works, it turns out that they are refused to board the plane because of not having a Vietnam visa approval letter ready.
Vietnam Evisa: This visa type is applied for 30 days single entry tourist visa only and currently, it is feasible for citizens of 40 countries.



2. Crossing the street

Before crossing, you must keep the strong mindset, do not afraid or hesitate. DO NOT text or see the map when crossing the street. Settle into the car waves on the road slowly, keep your speed stable and do not stop. The vehicles with automatically adjust themselves to your move.



3. Currency

When traveling to Vietnam, it is necessary for foreign tourist to convert cash to Vietnam dong. The USD/VND rate fluctuated between 22,000 and 23,000 VND. The secret to not be confused between the different value of money paper is that you should distinguish the color and number written on it. Although it is illegal, some stores and tour services in metro cities like Hanoi and Ho Chi Minh City still accept payment in USD



4. Seasonal clothes preparation

The summer weather in Vietnam is hot and humid and heavy rains can come so often in a day so you should bring cool material clothes. On the other hand, the North of Vietnam is very cold in winter. That's why you should wear a warm jacket if you want to go to mountainous places like Sapa for example.
When traveling to Vietnam, check the weather forecast every day before you leave the hotel and be used to bringing an umbrella. Do not wear dresses, short dresses in churches or temples, especially Ho Chi Minh Mausoleum because in these sanctuaries there is always a dress code.



5. Language

In most of Vietnam, English is not widely spoken, but Hanoi and Ho Chi Minh City are exceptions. Many foreign tourists think that it is difficult to communicate with Vietnamese because English is not their primary language. In fact, many Vietnamese people can speak some common English conversation. The students also expressed interest and want to talk with foreign visitors to cultivate their own language, not for any other reasons.



6. Buy SIM of Vietnam on arrival

You can buy a Vietnamese SIM at arrival airport at around $10. When you run out of money, you can buy a phone card at any street corner. You can also use free applications to make calls, text messages if Wi-Fi is available. However, be sure to turn off roaming before using Wi-Fi. Viettel, Vinaphone, Mobiphone are the most 3 popular mobile network operators in Vietnam. They all have different types of SIM depends on your purpose but we would recommend Viettel because of their availability in the most remote province.



7. Healthy Cuisine

Vietnamese cuisine includes three regions. Each region has its own unique delights. But the same thing of all three regions is that meat is the main ingredient, from street food to typical Vietnamese dishes. From beef in pho and Hue noodles, pork in bun cha and spring rolls to chicken in Hoi An rice.
Chefs in Vietnam are well-versed in the preparation of meat dishes. So, if you are a vegetarian, be careful when ordering traditional Vietnamese dishes. We suggest that you should talk to the chef to prepare your own vegetarian food or look for vegetarian restaurant when traveling to Vietnam. We recommend 3 best location for your food tour in Vietnam: Old Quarter Hanoi, Saigon street food and Central market in Hue.

Hopefully, this article give you useful information that you must know before taking your trip to Vietnam. Well preparation is always better in order to have a wonderful holiday in Vietnam. For any other advices for your Vietnam trip, do let us hear from you:
Website:Vietnamvisavoa.com
Hotline: +84969255515 (Wechat/Viber/Whatsapp)
Email: support@vietnamvisavoa.com